The Clutha / Mata-Au
New Zealand's largest river in terms of catchment size and water volume.
The upper Clutha / Mata-Au River from its outlet at Lake Wanaka to the head of Lake Dunstan is a nationally important brown and rainbow trout fishery. It contains the "world famous" Deans Bank section once "thought to have held more fish per square metre than any water in New Zealand".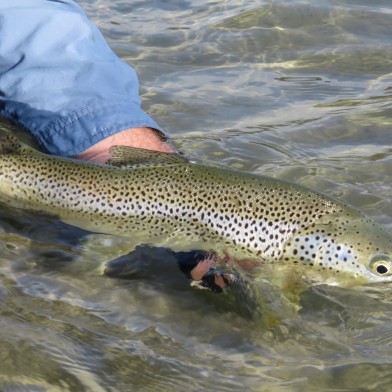 Fishing
The upper Clutha / Mata-Au River has a variety of water for anglers of all abilities. The river holds a mixture of rainbow and brown trout of varying age classes with fish in the size range of 0.5 to 4 pound common. Land-locked chinook salmon are caught in Lakes Wanaka, Hawea and Dunstan however it is rare to catch them in the upper sections of the Clutha / Mata-Au River.

Anglers with spinning equipment have the advantage of being able to fish from places that are difficult for fly anglers. As with all angling the critical factor influencing the success of spin fishing is the ability of anglers to recognise where fish will be residing and then presenting the appropriate spinner or soft bait in the right way.
In early summer the upper Clutha / Mata-Au is famous for its caddis hatches, especially in the Deans Bank section which is favoured by fly anglers. Here anglers can experience a great evening-rise and anglers commonly fish late evening and into the night with dry flies.